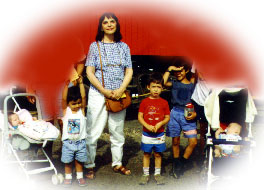 Lillian Hoban with a few of her grandchildren, 1993
Lillian Hoban is one of America's best loved author/ illustrators of children's books. She is perhaps best known for her lovable I-Can Read hero Arthur, a young chimpanzee and his little sister Violet. Together the pair explore the ups and downs and ultimate humor of early childhood.
She also illustrated Russell Hoban's six books about Frances the badger- -widely recognized as one of the great classics of children's literature.
But those are only a few of her many, many books for children (see catalog link below). Hoban worked non-stop until her death in 1998, leaving behind a wealth of books for young readers to enjoy for many generations to come.